Why Small Pipe Parts Are Called as Pipe Nipples?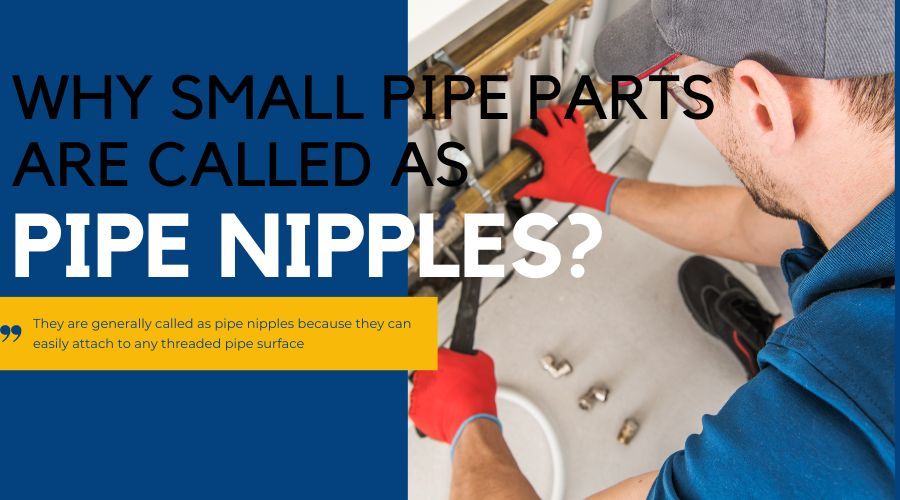 The most prevalent kind of pipe fittings in the piping and plumbing sectors are pipe nipples. They are generally called as pipe nipples because they can easily attach to any threaded pipe surface. They are generally short, and are straight sections of pipe with male pipe threads on both the ends for connecting two dissimilar female threaded pipes or fittings. Many different sorts of connections employ pipe nipples as adapters. Low-pressure pipe networks are where pipe nipples are most often seen. They are made to handle hoses or pipes with straight ends. The size, shape, and kind of pipe, as well as the temperature and type of fluid being transported, all affect the operating pressure of pipe nipples. The industry's broadest selection of materials and wall thicknesses are available for pipe nipples. Cutting a length of pipe, then joining the particular end connections, produces pipe nipples. The dimensions and materials of the pipe nipple are determined by ASME B16.11 Standard. Pipe nipples can be welded, bent, threaded, barbed, grooved, or seamless.
A Welded Pipe Nipple: What Is It?
Steel tubing that has been welded together from a flat piece of carbon or stainless steel originally serves as the nipples. A long-welded seam is formed on the piece of steel tubing or piping when the piece of carbon steel or stainless steel is rolled and welded. By melting the local metal together with a high-energy source, the weld is created.
A steel plate or steel strip is welded into a steel pipe, also known as a welded pipe after it has been crimped. Typically, the length is 6 meters. The manufacturing of welded steel pipe is straightforward, has great production efficiency, a wide range of requirements, and requires less equipment investment, but its overall strength is less than that of seamless steel pipe. A welded pipe's seams operate as a weak spot, while a seamless tube tends to be sturdy and can withstand a variety of industrial forces and pressures when in use.
What Is a Hollow Seamless Steel Pipe Nipple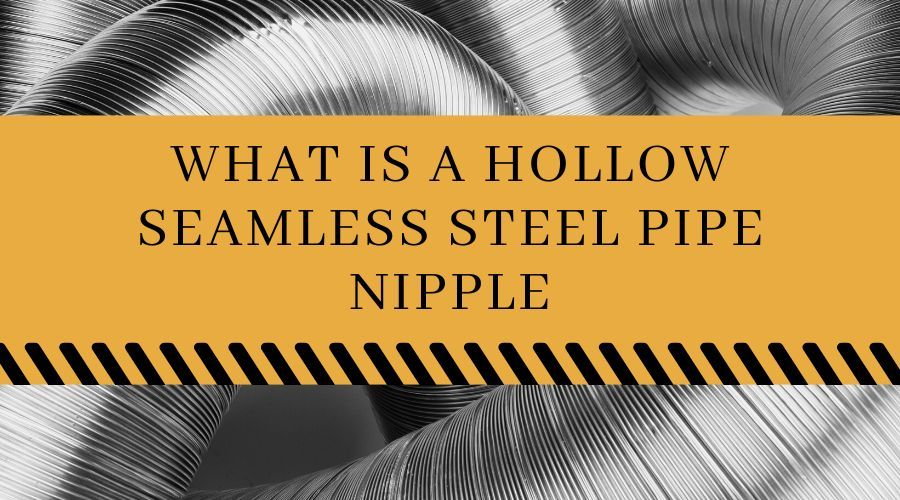 A solid bar or block of carbon steel or stainless steel is used to make seamless steel pipe, which is also known as drawn piping. And to form a hollow pipe, the steel pipe component is then placed through a drilling, extrusion, or oxygen lance process. After becoming hollow, the tube is put through a die and mandrel phase to increase the inside diameter and produce seamless steel tubing in a variety of diameters. One piece of metal is used to create a seamless steel pipe, which has no jointed steel pipe protruding from the surface. The hot rolled tube, cold rolled tube, cold drawn tube, extruded tube, top tube, and similar items are split invisibly according to the production process. Seamless steel tubes are parted into two groups that are based on their cross-sectional forms: special-shaped tubes and round and irregular come in a variety of complex shapes such as triangular, hexagonal, square, oval, melon-shaped, finned tubes, And star-shaped.
The greatest and minimum diameters are 650mm and 0.3mm, respectively. There are tubes with thick walls and tubes with thin walls, each serving a different function. The key uses for seamless steel tubes are, cracking tubes for petrochemical industries, drilling tubes for oil and gas wells, bearing tubes, boiler tubes, and high-precision structural steel tubes for, tractors, automobiles, and airplanes. Seamless steel pipe offers higher strength and greater pressure capacity compared to ERW welded steel pipe. As a result, it is widely used in the high-pressure equipment and thermal boiler industries. The weakest point in welded steel pipes is often the welding seam; the caliber of this seam affects the performance as a whole.
On average, seamless steel pipes are 20% more pressure-resistant than welded steel pipes. The main reason why people choose seamless steel pipes is because of their dependability. In actuality, the primary reason seamless pipes are used for industrial pipelines is that they can withstand extremely demanding temperature, chemical, and mechanical conditions. In the aerospace, automotive, and electronics sectors, where the budget is relatively modest and the workload placed on the pipes is also minimal, welded pipes are preferable.
The Variations Between Seamless Nipples and Welded Nipples:
• The inner wall of the welded nipple has welding ribs, whereas the seamless nipple has not. This is the visual difference between the two types of nipples.
• Higher pressure resistance is seen in the seamless nipples. The welded nipples typically have a 10 MPa pressure. The treatment of the welded nipples can now be seamless.
• During rolling, the raw material for seamless steel pipe is shaped into nipples all at once. After rolling, raw material welded pipe nipples must be joined together using spiral or direct welding. Although seamless pipe nipples function better, their cost is higher.
• The seamless nipples may be used for a variety of liquid and gas pipelines whereas the welded nipples are utilized for low-pressure fluid transmission pipes like water, gas, and heating pipes since they have distinct pressure-bearing capacities.
Nipple End Connections for Pipes
Depending on the piping system ends into which the pipe nipple will be inserted, a pipe could have plain both ends (PBE), threaded both ends (TBE), beveled both ends (BBE), threaded one end (TOE), beveled one end (BOE), plain one end (POE), or a combination of the aforementioned.
• Pipe nipples with Plain Both Ends (PBE) have both plain ends without a thread and are frequently used to create socket weld connections.
• Pipe nipples with threaded both ends (TBE) are used to connect female threaded connectors because they have threaded ends on both ends.
• Pipe nipples with Beveled Both Edges (BBE) have beveled ends on both ends and are used for welding, much like buttweld fittings.
Piping nipple finishes
The following finishes are offered for piping nipples:
• with a black covering
• the electro-galvanized surface
• Finished with hot-dip galvanizing
• finish with copper plating